Remembering the human beings at the centre of HR change processes – PART 1
I was looking in my back-up folder for something else and came upon this piece of reflection and advice to myself for the future – written just over 8 years ago, before I blogged or tweeted. I remember sitting down to write this within a few days of completing my involvement with a large-scale change that included a complete restructure and, unfortunately, some redundancies. I nearly said 'a headcount reduction' but we all know what that really means!
With some minor editing and anonymisation, I've decided to share it in a three-part blog.
This is my list of what to expect, what to plan for and what to do, following my experience of leading HR for a large-scale change in 2010 to 2011.
It is in no particular order, but starts with preparation, moves onto what to consider, what to do and what employment law knowledge and thorough understanding is essential.
This is very much HR focused, but clearly other teams like Finance and other essential corporate teams such as Communications and Governance will also need to prepare and to be fully involved.
There should be a core change transition team who meet regularly from the very start, with robust project management processes, risk identification and mitigation etc. There must also be sub teams to focus on specific areas such as HR.
Make sure the HR team is adequately (generously) resourced from the very start. Agree their future structure first and get them into their substantive posts. This prevents them dealing with very stressful work at the same time as going through change and being uncertain of their own futures whilst doing so. The HR resource can be flexed i.e. the initial w.t.e. could be higher than what will be needed after the change has been completed.
If using external resources to increase temporarily HR capacity, make sure the organisational cultural match and experience of the interim resource is as good a match as possible. Avoid using an external resource whose main expertise is in a completely different sector (wrong organisational culture) and make sure you get temporary staff at the right level of seniority. If you need 'doers', make sure you get them and not too many strategists. Organise support for HR staff who are likely to become quite stressed and might burn out due to the high workload and the nature of the work. HR must be members of the core change transition team and should have their own regular HR transition meetings (weekly or more often.)
2.
HR records and systems
At the first whiff of change or possible change, make sure all employee records are fully up to date and data quality is high, especially for protected characteristics under the Equality Act. This will help with analytics later. Good practice to do this regularly anyway.
Avoid the possibility of disputes over length of service at the point of a redundancy quote, when this will be more distressing for the staff member and mean more work for HR.
Make sure all systems are streamlined and user friendly i.e. self-service systems for as much as possible, so staff own their own info and there is less transactional work for HR. If there is more than one organisation involved, aim to harmonise systems if possible, in advance (such as payrolls.)
Make sure all HR policies are totally up to date (good practice anyway) and as streamlined, robust and user friendly as possible. Train managers and staff in their application when times are 'normal.'
In particular, ensure that the following policies are fit for purpose: Organisational Change (especially, consider the % of job similarity for slotting in), Redundancy, Disciplinary, Grievance, Appeals, Equality of Opportunity, and Pay Protection. If there is more than one organisation, aim to harmonise these key policies if possible before the change consultation commences.
4.
Trade Unions (if this is a unionised environment)
Work closely with the TUs at all times. Discuss the possible change with them at the earliest opportunity, even if it is not very well formed – they can help to form it. Work in partnership formally and informally.
Review and update recognition agreement and Joint Staff Negotiating Committee Terms of Reference in order to ensure fitness for purpose. If membership is low, work with the TUs on recruitment to boost membership as this can be required for policy updating and development and for accompanying staff to 'at risk' meetings etc.
Issue regular joint TU and management staff communications. Some of the issues the TUs in XXXX were concerned about were: differential consultation periods (shorter for directors and very senior managers), equality impact assessment, job descriptions and agreed job evaluation, when to serve staff with notice of compulsory redundancy and some individual staff situations. (All of these were addressed with solutions agreed in partnership.)
Communicate regularly at a set time every week, even if there is not much to say. Repeat important messages such as important dates week after week. (At XXXX, I kicked off with a series of open staff seminars to explain the Organisational Change policy and the HR Framework, followed up by weekly staff communications for about 4 months before consultation commenced.)
Communicate every possible way, using e-mails, regular bulletins, the intranet, staff meetings etc. Make sure staff on any type of long-term leave receive all of the communications promptly.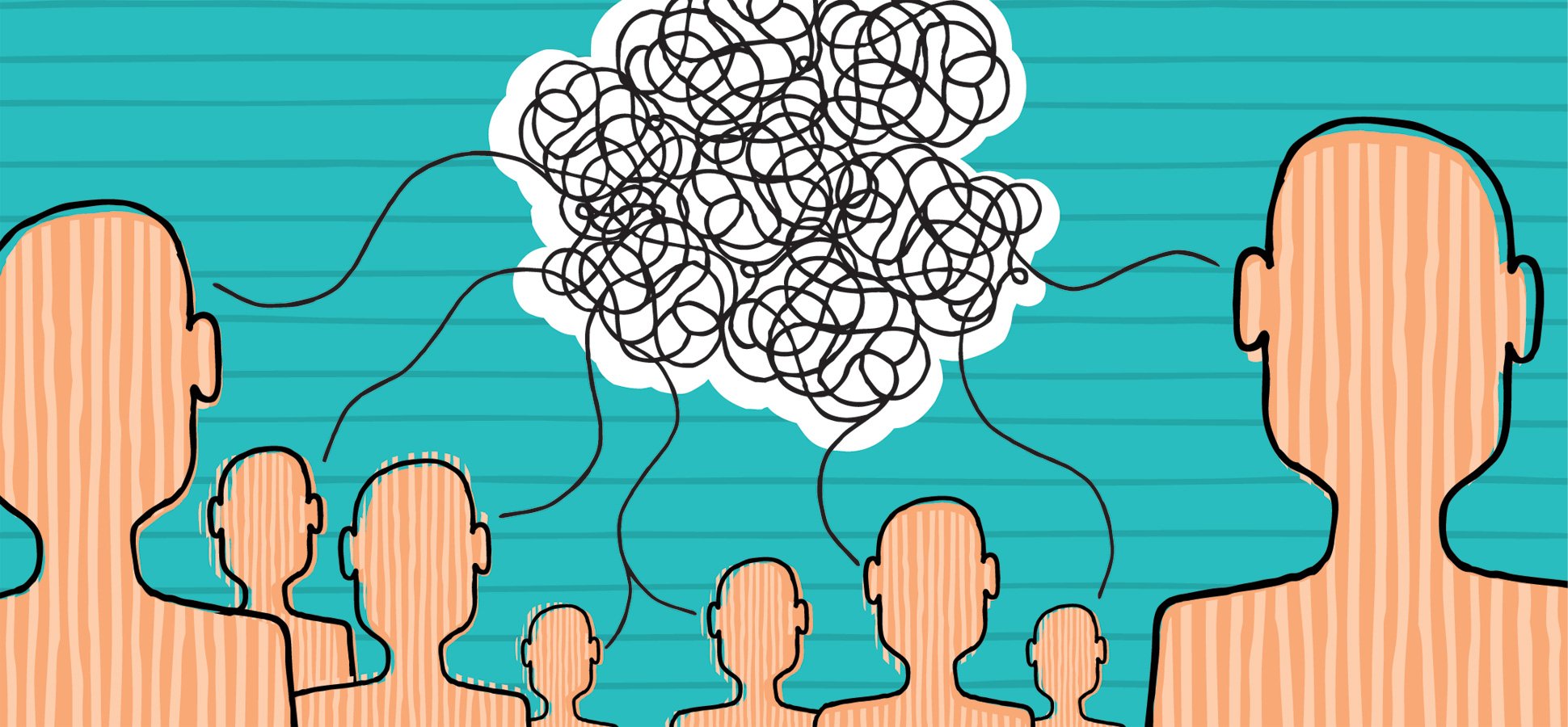 Separate communications regarding the change from general team briefings, but cross-reference. Do regular responses to FAQs. Be honest at all times, even if the message is negative, or management are having to acknowledge an error. Apologise openly if this is needed.
In addition to work with TUs and on communications, consider staff surgeries or HR open sessions at regular times (on different sites if necessary.) Staff on more remote sites will feel less engaged and rumours and mis-information are more likely to take hold there.
If rumours are persistent and clearly not founded on anything, cover the true situation in a FAQ or change bulletin – but don't overreact. Use very senior staff to hold meetings and to be visible to staff (with a clear brief so they all give the same messages.) Also brief and prepare line managers so they are as knowledgeable as possible and can support their teams. Respond to FAQs promptly. During consultation, respond to questions about processes (which can be distinguished from comments on the proposed change) as swiftly as possible.
This needs to be very clear at the start. What is the underlying reason for the change? Is there a compelling story? Is the vision for the future clear and therefore making it possible to describe to everybody concerned in simple terms? If it is cost cutting, say so.
Spend time preparing and drawing up a proposed future structure, which is as realistic as possible. Involve staff and stakeholders in pre consultation (see part 2). This will reduce the amount of 'noise' that the publication of the consultation document causes. Make sure it is fully costed. Make sure that any apparent discrepancies (such as some parts of the organisation appearing to lose more staff then others) can be explained with a justified rationale based on the future business.
Coming up in part 2: Timescales, organisational culture, planning and consultation.